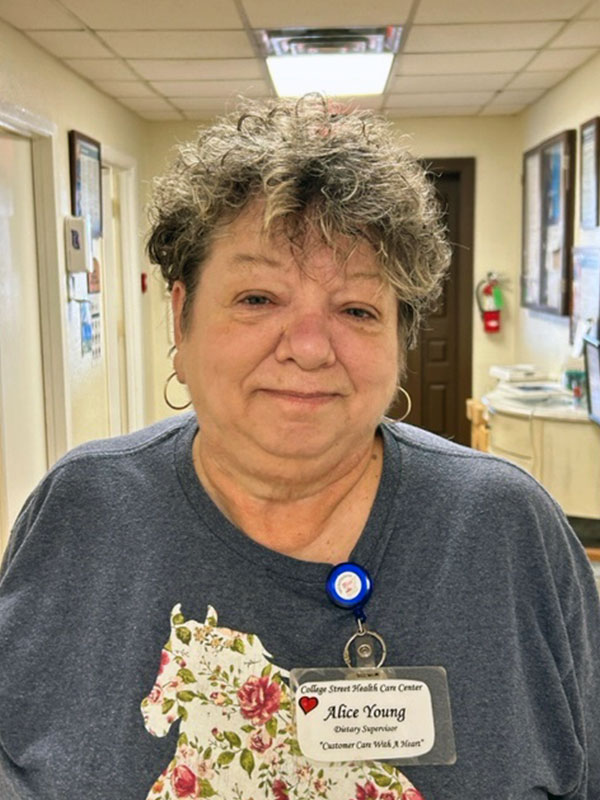 Dietary Manager
Brief info
Alice was born in Washington, D.C., where her mother worked as a secretary for the FBI under J. Edgar Hoover. Her Aunt worked as a teletype operator who gave messages directly to Mr. Hoover, and her Dad attended college at George Washington University.
At the age of five, she moved back to her Dad's hometown of Tulsa, Oklahoma, where she lived until she was ten. Since then, she has lived in over ten U.S. cities before settling in Texas.
Her dad was a Restauranteur, and Alice was in the kitchen helping out as soon as she could reach over the counter. In Florida, she worked at two private country clubs in exclusive Ponte Vedra Beach. She became a "Navy wife", getting married aboard the Aircraft Carrier USS Franklin D Roosevelt. Alice has three children and 12 grandchildren with her late husband, and they were married for 29 years. In 2006, she met her current husband and they live happily on 6 acres North of Vidor, Texas.
Alice has been published in various forms of advertisement on an international level and enjoys church, horses, photography, and her grandchildren.